AC approval & installation
Students residing in non-air-conditioned facilities are not permitted to bring their own air-conditioner unit to campus. However, students with a documented medical condition or disability may be approved for air conditioning by submitting documentation from the student's family doctor to the Bailey Health Center. Once approved, the student will be directed to Facilities Operations to complete the process.  Only Facilities Operations Staff is permitted to install AC units in college-owned properties.
Appliance Rentals
The College has partnered with local companies for approved appliance rentals.
Microfridge
To prevent electrical circuitry overloads, the only microwave permitted in residence hall rooms is a microfridge. A microfridge is a combination refrigerator/microwave that regulates its power supply. Microfridge units may be purchased or rented from this vendor.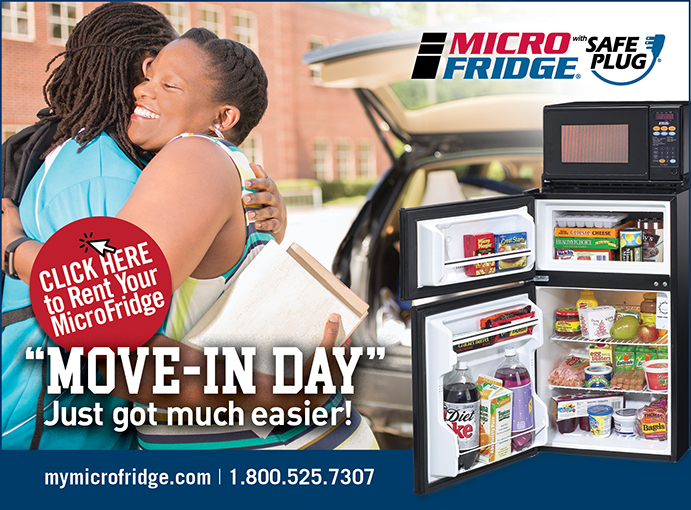 Refrigerators
Small refrigerators are permitted in the residence halls. You may bring your own refrigerator or rent a unit through this vendor.
Campus Specialties
www.mymicrofridge.com
(800) 525-7307
Cable TV
ON CAMPUS
Service Electric Cable TV is contracted to provide basic cable services on a subscription basis to student residence hall rooms.  Sign up online to order cable television. To upgrade to an HD signal, you must contact Service Electric directly at 610-865-9100 to arrange for a special box to be supplied, installed, and billed by Service Electric. Technical questions regarding cable service should be directed to Facilities Operations at 610 330-5373.
*Television lounges in most residence halls are equipped with cable.
OFF CAMPUS
Students in off-campus properties must obtain cable services through outside vendors. There are many  providers in the Easton area with whom you can contract cable, phone, and/or internet. Below is the contact info for the most commonly used providers in the area.
*Be sure to ask for college student specials and bundled services!
Provider
Services
Contact Info
PEN TELE DATA
*Internet
www.ptd.net 800-804-5783
RCN
*Local and long distance phone service
*Internet
*Cable
Bundles available
www.rcn.com
866-837-7939
SERVICE ELECTRIC
*Local and long distance phone service
*Internet
*Cable
Bundles available
www.sectv.com
610-865-9100
SPRINT
*Local and long distance phone service
 800-877-4646
VERIZON
*Local and long distance phone service
*Internet
www.verizoninternet.com
800-660-2215
VOICENET
*Internet
 888-647-4373
Computer Network
All residence halls feature wireless and wired network connections.  Full information about the campus network can be found on the ITS website.  Students in college-owned off-campus properties must contract their own internet services through a local provider.
See the drop down for Cable TV for communications providers who also may offer internet service packages.
Custodial
Facilities Operations custodians clean residence hall common bathrooms, kitchens, and common areas. Students are responsible for cleaning individual bedroom (and suite/apartment bathroom and common areas).
Personal Property Insurance
Personal items in student rooms and residence halls are not covered under the college's insurance policy.
Students may wish to check a family member's homeowner's or renter's insurance policy to determine if coverage extends or can be extended to these items through an addendum.
Students may also obtain personal property insurance through companies like NSSI. The college does not endorse a specific personal property insurance provider, but they are one example of a policy tailored for this purpose.
Preventing & Detecting Mold
Mold spores can be found almost anywhere and are naturally present in both indoor and outdoor environments. Mold spores can't be eliminated from the indoor environment. We bring them in with us on our shoes and clothing and when we open a window. These normal levels of mold do not typically cause health problems. If mold starts to grow indoors, concentrations can rise and increase the risk to occupants. The good news is that we can prevent mold growth by controlling moisture.
Report a Facilities Problem - Submit a Work Order
The Facilities Operations department is responsible for cleaning and maintaining the residence halls.  Our office acts as a liaison between students and Facilities Operations. Students are prohibited from doing their own repairs.
Maintenance Requests
Non-emergency repairs should be submitted through a work order request or by informing your RA.  Emergency requests should be reported immediately as follows:
Weekdays 8:30 a.m. – 4:30 p.m., call Facilities Operations at 610-330-5373.
After 4:30 p.m. and on the weekends, call Public Safety at 610-330-5330.
Laundry Issues
For concerns about laundry facilities please submit a work order request.  Please include the following information so that your request can be processed quickly:
Location of the laundry room (building and floor)
Exact location of machine that is malfunctioning (ex. 1st washer on the left)

Specific

description of the problem (ex. washer fills with water but does not drain)
Trash and Recycling
Each floor contains a central trash can and recycling container for small items. Custodians empty hallway trash and recycling containers. You are encouraged to take your room trash directly to the exterior dumpster located near your building.